180mm PP Polypropylene Bio Pac Media Trickling Filter Media
Model Number:BS-TFM
Place of Origin:Pingxiang,China
Keywords:Bio-Pac SF#30, Bio Pac Media ,Trickling Filter Media
1. Precise Design 2. Resistant to Ultra-Violet Degradation 3. Rugged Construction 4. Non-toxic, Light weight, Strong UV Resistance material

INQUIRE NOW

Contact us 86 (0) 799 6699600 / 0086 15179934828 jenny@bestpacking.cn
Bio-Pac SF#30 random dump media is successfully operating in over 100 trickling filters. With over 300 mixing and redistribution points for both air and water per cubic foot of media, Bio-Pac is capable of redistributing wastewater every 2" of media depth.This feature makes Bio-Pac ideal for shallow trickling filters.
Bio-Pac SF#30 has also been used extensively in upflow anaerobic and aerobic submerged bed reactors. Since the media floats, use of an underdrain support is eliminated.
Furthermore, Bio-Pac's unique shape serves as a foam breaker when installed in anaerobic reactors.
Media Characteristics:
30 ft2 /ft3 surface area 95% void ratio Manufactured of UV stabilized polypropylene
Low installation cost Excellent for BOD reduction or nitrification
Low minimum wetting rate, 150 gpd/ft2 For bed depths up to 30ft.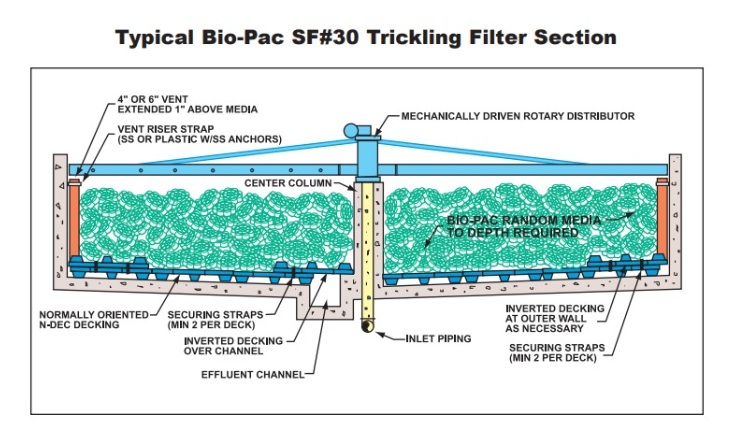 Special design of surface, stronger bio-film growth capacity;
Large specific surface area, high voidage, the more periphyton biomass; Unique design of structure and shape according to hydromechanics, strong three-dimensional flow dynamics in the water; Adding hydrophilic groups and other trace elements, the biofilm formation time only 3-15 days; Excellent impact strength, strong gas shear capacity;
Without any holder, easy to cure, save energy and space.

2 TYPES OF Trickling filter media: